Based in Anglesey, North Wales, we are surrounded by beautiful scenery. Our company offices make the most of the amazing views looking across the Menai Strait towards Mount Snowdon. Newborough Forrest and beach are on our doorstep, while the island's wonderful coastal paths are only a stones throw away … how can we not be inspired.
A good work life balance
We love where we live. We also love what we do and we think it shows in our work. Our portfolio demonstrates a broad range of successful projects across various media sectors. We draw on all our experience to deliver a range of services and create bespoke, cost effective solutions for our clients. However, it's not just about experience – we are continually learning, expanding our knowledge and finding new, innovative ways to do better. Simply put, we are a group of talented artists, planners and programmers who work well together.
Our beginnings
Established in 2019 by Carleen Houbart, Design Drawer Studios is the culmination of 30 years experience working in various media sectors.
With a degree in Computer Visualisation and Animation, Carleen initially worked for companies such as Granada Television and King Rollo Films, before moving her focus to computer games. she has worked in a variety of roles spanning technical, artistic, marketing and management positions and has developed projects for the likes of Sony, Sega, Disney and Nintendo.
Creativity is still at the core of everything we do.
In 2004, Carleen decided to setup in her own name, providing design, illustration, graphics, animation and 3D modelling services. Design Drawer Studios is the natural evolution of these early beginnings and it continues to evolve.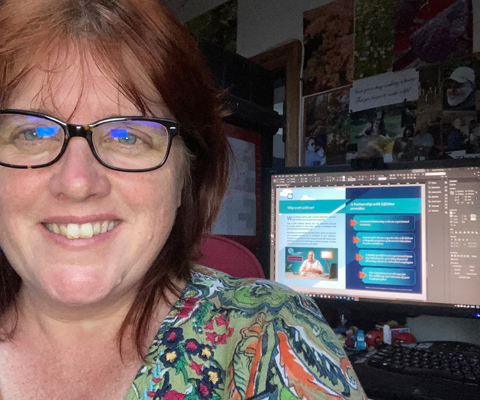 Our story continues to be written
We can't predict the future and that's a good thing. The excitement and challenge comes from not knowing what project is around the corner or who it's with. Our skills change and expand to meet the needs of each project and it's this ability to adapt that keeps us engaged.
An established full service design consultancy with a commitment to excellence
The team at Design Drawer Studios provides specialist skills in graphic design, illustration, motion graphics, copywriting, videography, photography, UI design, brand development, marketing, software creation and project planning.
We will continue to add new skills and evolve our delivery to meet the needs of our clients.